As Grandmaster Ip's Disciple, I am dedicated to practicing, preserving and passing on the snake style of Yang family tai chi chuan. The snake style was held exclusively within the Yang family for five generations until Master Ip gave me permission to teach it openly.
The snake style develops a powerful, flexible body and superior martial arts skills. More importantly, it offers the potential of a lifestyle free of physical and emotional stress. Peace-of-mind, robust health and longevity are its ultimate rewards.
Please enjoy your visit to our web site. Perhaps one day you will want to follow the way of the snake.
Welcome to Ip Family Tai Chi Chuan – the Snake Style

Grandmaster Ip Tai Tak was taken as Master Yang's male heir and adopted son (Disciple) in 1958. He was then taught the Yang Family's Snake System and became Master Yang's practice partner for the next 28 years
Master Ip told me that Yang Chen Fu taught the snake style only to his eldest son, Yang Sau Chung, and that Yang Sau Chung passed on this system only to him. Master Ip taught me snake style system after I became his Disciple in 2001.
Master Ip was an innovator, adding exercises, drills and martial variations to the body of knowledge passed on to him by his Master. He researched many different martial systems and worked with his Master to develop a more complete system of Zhan Zhong. Master Yang also gave Master Ip permission to personalize the Yang Family Long Boxing and weapons forms to suit Master Ip's martial interests and beliefs.

Before his death, Master Ip gave me permission to teach his Snake Style openly and encouraged me to pass on this teaching throughout the world. This has become my mission as his Disciple.
In honor of his legacy, and to distinguish this system from all other Yang teaching methodologies, I am proud to announce the formation of Ip Family Tai Chi Chuan (from the Snake Style of the Yang Family).
Sincerely Yours,
Bao Tak Fai (Bob Boyd)
About the book, a review by David Radford :

The Hidden System of the Yang Family – a book by Master Bob Boyd
I attended a seminar last year with Bob Boyd. Knowing a little of his background I had expected a good seminar but hadn't been prepared for such a radical rethink of what I thought I knew. To be honest it was a bit of an eye opener. I had been teaching tai chi for many years and doing a reasonable job at it without getting too serious about it, understanding a little more each year and exploring links with meditation and correct body movement in sport (esp. tennis) movements. After putting into practice some the concepts explained in the seminar and now in this book I realised I couldn't bring myself to teach the old way any more. Although there is a long way to go, it has already improved and strengthened my posture and added an extra dimension to my tai chi practice. Most of all though, it just feels so good to do!
If you are prepared to empty your cup (yes it is a lot to ask, I know) then this book will set you on the path to a deeper understanding of the fundamentals principals of tai chi. If you want to move in a more fluid and connected way; if you ever get frustrated with your lack of progress in your tai chi training then you might find this book very interesting. Not averse to a touch of controversy you will find in the pages of this book some comments that might surprise you but you'll have to read the book to find out .
I know all this 'hidden knowledge now revealed' sounds like a corny advert for a magic formula but no, if you want to make use of the knowledge in the book you will have to work hard but at least you will be heading in the right direction!
Seminar 2023
Monday October 30 to Friday November 3

residential at Site de la Chapelle, Châteauneuf de Gadagne, near Avignon FRANCE
New Book available now !
The Yang Family Thirteen Principles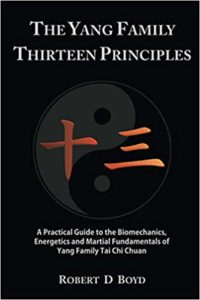 Click on the book image to see information, price and order
Snake Style Tai Chi Chuan
The Hidden System of the Yang Family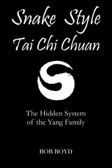 Also in french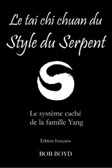 and german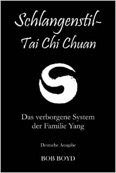 Click on the book image to see information, price and order